I think Rappler is the perfect "pugad" for the satire comic strip anyway :)
For those who didn't know what happened to sir Pol Medina Jr., to Pugad Baboy, and to its home for 25 years - Philippine Daily Inquirer a week ago, it is because of this comic strip:
I guess we sort of have an idea already what's wrong with the strip right? It's the stereotypical attempt of putting a muscular woman there to represent a lesbian. Nah, not that! Pol Medina Jr. admitted he did a mistake including a specific institution (St.Scholastica's College) in his strip.
St.Scholastica's College threats PDI that they would file charges over the allegedly offensive strip, thus resulting to Pugad Baboy's suspension on the said newspaper. Medina said this is the school he thought of because his former girlfriend came from St.Scho, giving him a first hand information about the school's orientation.
Some may also find the strip offensive (and controversial) not just because of the school mentioned, but also for its content about hypocrisy among Christians regarding homosexuality.
The cartoonist decided to end his more than two decades commitment with PDI and submitted his resignation last June 7.
All of these resulted to a discussion about freedom of expression. Pugad Baboy is one of the longest running comic strip in the country. It is a well known satire of the country's society and culture. Pugad Baboy presents political and social issues in humorous ways. The character themselves reflects every Filipino characteristics and behavior, which again makes it more funny to read as you would see yourself in them one way or another.
That's why its suspension, and Pol Medina Jr.'s resignation worried me. Is it the end of an era? My era? The 90's kid era?
Well era your face! These obese community, and the dog, is ready to step out of the paper and venture to today's main source of news, the world wide web!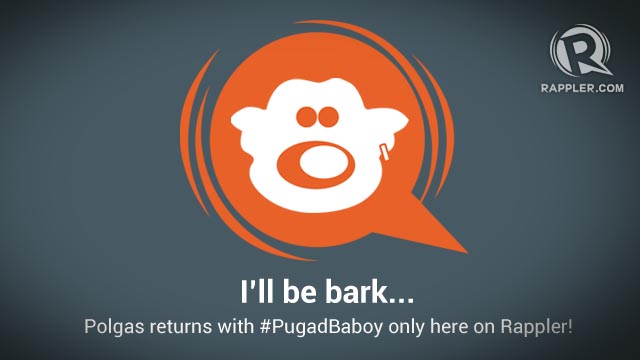 I can't think of a better cyberspace to put Polgas and the gang but in Rappler.
Rappler is one of Ms. Maria Ressa's genius ideas. It's a social news network and probably one of the most popular in the country. According to their website: "Rappler comes from the root words "rap" (to discuss) + "ripple" (to make waves)." Genius right? By the way Pol Medina Jr.'s new boss, Ms. Maria Ressa, is an alumna of, guess what school? St. Scholastica's College! Ow, the irony!
One of the site's edge is its mood meter where in readers don't necessarily need to comment on posts to express how they feel. They can simply just click the button for happy, sad, amused, annoyed, etc.! From this, the mood meter can measure the main reaction of the readers about a particular topic, and among the other article topics.
What does it imply then? That Rappler do care for its readers' feedback, and not push it to be discreet to others. Online is probably the best way to express your opinions without being too restrained, as compared to daily publications.
Today is Pugad Baboy's second day and second strip in Rappler. It's definitely a new experience for us who used to read it on the newspaper. Although same as before, you can still enjoy new strips daily (except Sundays) at exactly 5am. The bonus though is that you don't get just one punchline, but you get to have three, and choose which among them you like the most!
Rappler said on one of its post:
In cyberspace – on Rappler – we're going to give him all the "walls" and "space" he needs to "oink" (or "arf") on.
How spoiled can you get Mang Dagul and Polgas? Well you definitely deserve it!
With Pugad Baboy joining the cyberspace, I hope (and I'm sure), more and more people would be able to read your daily stories, even those abroad! Accessibility is better now as the ratio of newspaper readers among internet users nowadays are far behind. Images are optimal now and you don't have to cut those newspapers anymore for those who love to collect Pugad Baboy strips, you can simply right click and 'save image as'. Pugad Baboy can also be introduced to today's internet dependent generation. More importantly, satire is best practiced here, the truth and reality is much conveyed here.
Don't get me wrong though, I still love the smell of newspaper and I still find it classy seeing someone sipping coffee while turning the newspaper's huge pages. I just happen to agree that Pugad Baboy needs to breathe in a more nonconformist space, as well as what is written before this paragraph.
Welcome to cyberspace Polgas and the gang! Do read Pugad Baboy everyday, now on Rappler!
I don't own all images posted.