Sudden wet look / wavy hair. Thanks for being soaked in the rain :) #rain #hair (Taken with
Instagram
)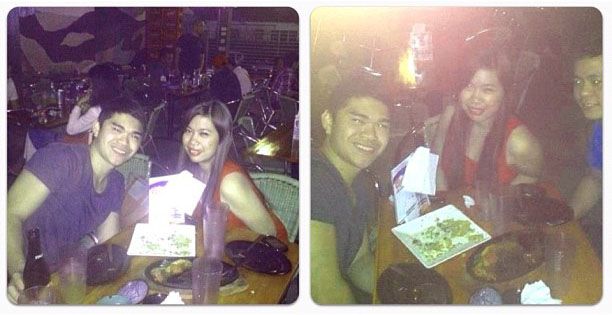 palakihan ng braso night :/
(Taken with
Instagram
)
So despite the heavy rain, I think I still managed to fulfill all duties for the week. But of course since mr.rainy days just keep on showing on your doorstep, it was really a hassle on leaving the house for work, for leisure, or for whatever activity you have for the day. Admittedly, being offered for a ride home, or even being fetched from home, has been a life saver for me. Thank you for those concerned.
Rainy days are also moments of emotional nostalgia. Like when you look at the window and see the raindrops, you suddenly remember precious memories while Boyz2men plays on the background. Very MTV eh? Good thing as I grew up, rainy days didn't became a season to be sad anymore. I just became oblivious with that fact.
Beer weather / The weather is inviting. Yeah, you know that feeling! Like shivering makes you just wanna gulp a glass of beer! I prefer hard though, the weather's cold and the alcohol's warm, aaaahhhh, perfect! Not to mention lighting a cigar while succumbing to the night's coldness, whew, perfect again! Best time to say the word "Chill!".
Lustly, I mean, lastly, rainy days makes you feel like you just wanna hug somebody. Or more appropriate would be, to cuddle with someone. Honestly, I can't remember associating that feeling with the rain though. But it applies to many of you I'm sure. Though I do find it romantic being inside those car windows fogging up due to the weather's humidity. That's just about it I guess. Don't get me wrong though, I love kisses in the rain, but getting wet and all, hmm... okay, I'm maarte like that :)
Rain, storm, typhoon, they're not done sabotaging us yet so prepare yourselves! Also, if you think you cannot continue your day plan because of mr.rain, not true. If there's one thing I learned last week, that is to not let the rain get in my way. Ugh, I attended the Thursday mass at St.Jude after work even if I'm aware with the rain's possible fall. True enough, it rained hard, but I don't care coz I felt like it was even a little sacrifice for the Lord! Another incident was when I met up a friend at Eastwood and have to cross the bridge at Citibank. Ow my friggin' world, it was my first time to be walking on the overpass with the very very hard rain, and whoala, strong wind as well! I was literally talking to myself as I manage to control my body from being carried by the wind. I'm on a bridge hello, that was scary! I didn't let the rain control me and managed to fight with it instead. Got a box of cupcakes and a big hug (ow hugs and rain again?) upon reaching eastwood, lovely ending. Revengeful as mr.rain is, he did gave me minor fever, flu, and never ending cough. Hmph!
How about you, can you stand the rain?